Dresser-Rand Guascor® SFGLD Engine Series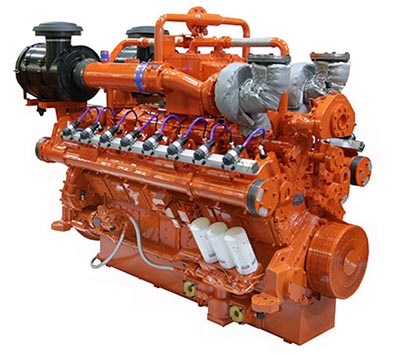 The Dresser-Rand Guascor® lean burn, electronically carbureted, SFGLD engine series ranges from 252 to 985 kWb and provides excellent installation solutions for power generation, co- and tri-generation, and mechanical drive applications.
The SFGLD engine series can be adapted to operate on lean gases from biomass gasification processes as well as associated gas, low quality natural gas, well gas, natural gas liquids (NGLs) and a wide range of waste gases from the oil and gas industry.
Output range from 315 to 1067 kWb
Powered by natural gas, biogas, landfill gas, sewage gas, flare gas, and a wide variety of other gases — syngas, associated petroleum gas (APG), well gas, etc.
Supplied as a stand-alone engine, genset, with cogeneration systems (CHP) skid separately, or in a fully assembled container unit (noise insulated if required)
Features include :
Dry / wet exhaust manifold
Single / double step intercooler
Oil cooler in main / auxiliary circuit
248 / 194ºF (120 / 90°C) main cooling circuit temperature
176 / 131 / 104ºF (80 / 55 / 40ºC) intercooler cooling circuit temperature
EPA certified for natural gas power generation
Able to reach rich burn engines load acceptance in certain configurations